KuCoin announces today that Tron TRX got listed on their state-of-the-art platform. Tron is recognized as a blockchain-based platform establishing a truly decentralized Internet.
Tron's native currency TRX is now available for deposit with trading pairs such as TRX/BTC and TRX/ETH. Buying will start at 19:30 (UTC+8) while Selling/Withdrawal at 220:00 (UTC+8).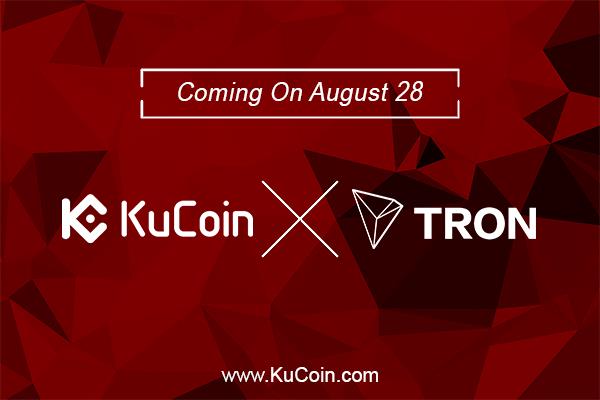 The TRON Network (TRX)
TRON (TRX) is a blockchain – based cryptocurrency platform that aims to decentralize content-sharing on the World Wide Web and the Internet as a whole. It gives artists and creators the possibility of releasing their content without having to use centralized 3rd party platforms such as Facebook, Youtube, and the like.
The Company behind the TRON Project
Mr. Justin Sun founded the TRON Foundation in September 2017 with a headquartered in Singapore. The cryptocurrency project associated with it is called the TRON Block Explorer or the
TRON Network (TRX).
The TRON currency is one of the latest and most popular cryptocurrencies on the market. However, it aims to create a platform that is very different from the typical cryptocurrencies.
With that being said, the TRON Foundation looks forward to gear up with the digital content and entertainment industry. It works on the related concepts of decentralization and distributed storage technology but targeted at the massive global content and entertainment industry. Content sharing will be performed through the blockchain and its peer–to–peer (p2p) network technology. In essence, the TRON Network goes beyond the uses of conventional cryptocurrencies:
• Eradicate middlemen who connect content creators to users.
• Content creators to receive revenue directly from their users and consumers.
• Apart from eradicating middlemen in the payment process, this also reduces traffic dependency on sites such as Facebook, etc. This is because traffic will be streamlined back to the content creators, removing the need for hits and views on middleman sites.
The TRON Network (TRX) Roadmap Plan
The TRON Network (TRX) is currently in the first phase of their roadmap. This stage, called Exodus, which is focused on data liberation. The purpose is to have a completely functional platform to publish, store, and share digital content by the end of the year 2018. In its current phase, it has the advantage of being less likely to have bugs in the code considering it has already been tested.
Apart from the Exodus phase, here are the other phases of the TRON Network's roadmap:
• Phase 2: Odyssey – This phase focuses on eradicating middlemen services and giving the profits directly to content publishers.
• Phase 3: Great Voyage – Scheduled to start in Summer 2020, this phase explains why TRON's current code structure resembles Ethereum as its purpose is to allow for "Personal Initial Coin Offerings," similar to Ethereum token sales. In other words, individual content creators can hold ICOs to raise capital that allows them to produce more and better content.
• Phase 4: Apollo – Aims to create a fully decentralized trading platform for all the individual tokens created on Tron.
• Phase 5: Star Trek – Takes the concept to the next level by developing a decentralized gaming platform for developers to design online games.
• Phase 6: Eternity – Allows developers to build entire gaming platforms on Tron and allows general investors to invest in specific games and networks.