KuCoin exchange announces today that they have listed the primary and transaction currency of the internet focused decentralized platform, Merculet MV.
Deposit is now available using KuCoin's app on any iOS or Android devices or to their official website www.kucoin.com. Buying commences at 19:30 UTC+8 and Selling/Withdrawal at 20:00 UTC+8 with trading pairs MVP/BTC and MVP/ETH.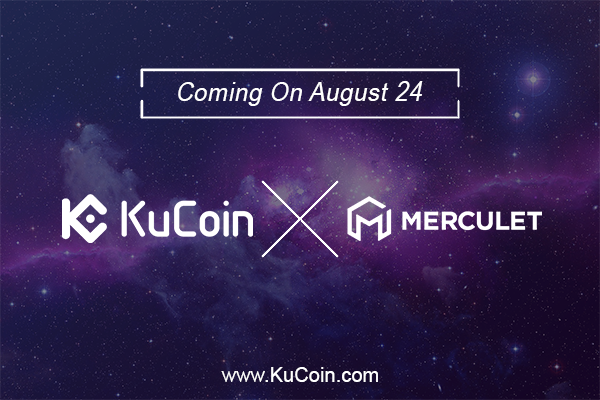 About Merculet MVP
Merculet derived from Mercury and Blocklet, the Roman God of Commercial and the cornerstone of the blockchain, use blockchain technology to improve the relations between consumers, producers, and investors. It allows users to monetize their application. As an addition, it also assists businesses to increase their businesses by producing a good review ecosystem and the re-distribution of the trillion-dollar value-driven economy.
It has also generated an Attention Value Network (token: MVP). It connects the supply and market sides of attention with an open contract suite to promote good circulation of the Internet of Value.
Attention Value Network
Mobile Internet is mostly about traffic. The Internet of Value derived from the mobile Internet is essentially an attention economy.
Merculet presents a holistic solution to help companies and users embrace the attention economy and build a distributed, value­focused network. It connects and performs the match and value exchange between the supply and demand side of attention.
It consists of three central components: The UAV (User Attention Value) evaluation system, User Attention Token(UAT) as the foundation of attention incentive system and Open Content Platform to solve the problem of attention source.
The MVP Token
MVP is short for Merculet Value Protocol and a standard ERC20 public chain asset.
Enterprises can immediately access other application circulation scenarios by anchoring their own UAT and MVP, or interact with the ecology of another public chain world; MVP also supports ecologically beneficial behaviors and introduces strategic priorities. Incentive resources to assure the healthy and orderly evolution of the entire growth ecology.
MVP is the cornerstone of Merculet Attention Value System and anchored by UAT. MVP could connect various enterprises by certain rates and promote the value distribution between them.
Meanwhile, MVP also implement better support for enterprises from various aspects.
The difference between UAT and MVP
UAT is distributed within the technical support of Merculet. It establishes the contractual relationship between each company and its users. It is mainly used to circulate as the operation tools within the company. The initial operation is in the Internet Asset Layer which maintained by Merculet and the entrepreneurs. It also could mapping their asset to the public chain according to the requirements of the enterprise;
In short, entrepreneurs could assign their UATs and offer to users according to the user's UAV which based on their own operating rules. MVP comes from the Merculet Token Pool and soft­mining in different ways. Different UATs will run in specific APP/enterprise, while MVP will circulate over different apps/enterprises within the Merculet Ecology.