Today, KuCoin blockchain asset exchange is thrilled to announce on its latest listing of another promising project Decred, an autonomous digital currency.
Decred's native token DCR is now available for deposit with trading pairs including DCR/BTC and DCR/ETH. Buying commence at 19:30 UTC+8 while Selling/Withdrawal at 20:00 UTC+8.
All trading activities are done utilizing their Android and iOS apps, or through their official site, www.kucoin.com.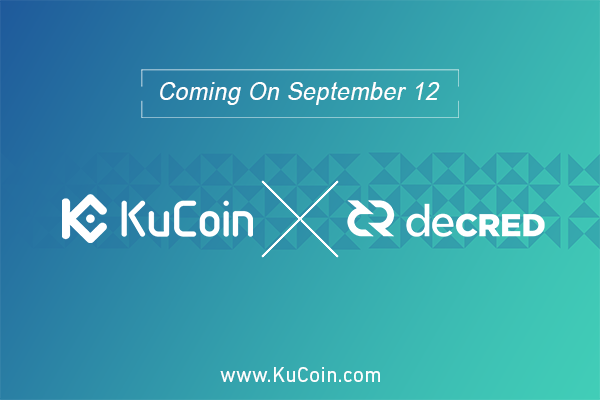 About Decred (DCR)
Decred (DCR) is an autonomous digital token where its stakeholders are part of the decision-making as it has a decentralized and sustainable highlight giving the term as "a self-ruling token." This cryptocurrency has organized its priorities as having decentralized administration and the creation of settlements on the blockchain.
How Decred (DCR) Run
Decred uses an advance hybrid Proof-of-Work and Proof-of-Stake to validate the blocks accessible. Therefore, the stakeholders or the token holders are contributing the approvals to the coin miners buliding the blocks for rewards. It is a unique system as it ensures that the miners are not there just for the short term profits on their investment on their hardware.
The Core Team
Decred had a humble beginning as it started as a projection established in April 2013 by Adam Mckenzie. The present project leader and CEO of Company Jake Yacom-Piah accumulated, developed and launched Decred in March 2014.
Over the past years, it has collaborated with many other members into its team with the lead developer Dave Collins. The team focuses and fully involves in developing Decred be the first ever Decentralized Autonomous Entity.