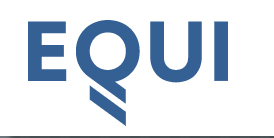 EQUI is an innovative and dynamic new blockchain technology which may change how venture capital investing will be done. The investment sector has been slow to latch onto blockchain technology, but that may all be about to change with EQUI.
Baroness Mone of Mayfair OBE and Doug Barrowman are the Co-Founders of EQUI, a company which hopes to help the world of investment progress past its outdated traditions.
EQUI Token
The EQUI token is the bridge between non-investment professionals and the world of investment finance. It allows cryptocurrency holders to trade, invest and make real world money.
It is built on the Ethereum platform and can be used to buy stakes in a range of prime investment opportunities.
EQUI Ecosystem
EQUI has a unique system which gives a piece of the pie to all token holders when a project becomes fully realised. This is beneficial as it gives extra opportunities for making money off the platform.
Users can browse the EQUI and pick which investment suits them best.
EQUI Token Presale
Presale opens on the 1st of March and ends on the 8th of the same month – the public ICO will start from there. There will be several bonus incentives for early investors. 25% bonuses will exist for those who buy during the presale, while there will be scaled bonuses over three other phases after that.
They are as follows.
Phase 1 – March 8th – 15h – 15% bonus
Phase 2 – March 15th – 22nd – 5% bonus
Phase 3 – March 22nd to 31st – no bonus.
The total supply will be 250 million at a price of $0.50.
Accepted payments during the presale include USD, GBP, EUR and Bitcoins.
During the public ICO, EQUI tokens can only be purchased using Bitcoins (BTC), Ethereum (ETH), Litecoins (LTC), and Ripple (XRP).