The award-winning online platform indaHash is taking a step forward for the influencer marketing industry and setting a new trend in the sphere of digital marketing.
indaHash, an automated online platform connecting more than 300,000 influencers from 70 markets with globally popular brands, is ready to revolutionize the digital marketing world with the introduction of its own indaHash Coins (IDH).
indaHash Coin is a decentralized cryptocurrency payment method which can be used by social media influencers, their audiences and brands. All payments within the platform are made in the form of IDH tokens, as opposed to cash or fiat currencies.
The main goal of the award-winning app is to tokenize the influencer industry as a solution to major issues and challenges between brands, influencers and their audiences. The upcoming ICO is to change the form of communication between the mentioned parties by making it easier, faster and more effective.
Brands will be able to start or develop their cooperation with influencers much easier than it was before, influencers will have an opportunity to work with brands and further develop their audience reach, and audiences, in their turn, will be engaged into closer relations with brands and influencers they follow.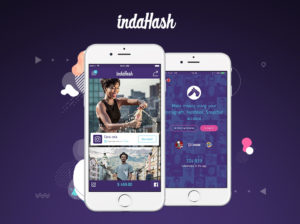 indaHash has stated on the official web-site:
"indaHash Coin will become the world-standard currency for settling all influencer activities reflecting the value of the growing market. With the introduction of the indaHash Coin we want to tokenize the influencer marketing world and solve a wide range of issues and challenges between influencers, brands and fan bases."
Apart from simply connecting influencers to popular brands, indaHash Coin has some other breakthrough features, which have been unheard of until now. This new crypto-payment system will enable influencers to create their own cryptocurrencies and use personalized tokens to reward their audiences, who can then exchange them for unique interactions and physical goods from influencers. This will significantly improve the relationship between digital celebrities and their fans, and provide influencers with higher level of audience engagement and greater popularity.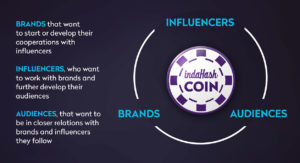 Another revolutionizing feature offered by indaHash is called "Pay-With-Fame" which will enable smaller companies to compete with giant players on the market. With "Pay-With-Fame" option, brands can offer discounted products and services to the most desired influencers in order to get reviews and have more posts made from them. It will have double-win effect – companies will be able to sell more products and services spending less money on advertisement, and influencers will have an opportunity to get various offers from brands, including exclusive and limited edition products, events and workshops.
The pre-ICO officially begins in a few days, on November 8, 2017. The participants will have a chance to enjoy a bonus for early adoption. During the pre-sale period 80% (320 million IDH) of all coins (400 million IDH) will be available. A cap of 400 000 000 indaHash Coins will be created and, depending on the time of registration, the price it will vary from 4480IDH to 3200IDH for 1 ETH with a hardcap, depending on bonuses and ETH value, from $22,100,000 – $31,000,000.
The start of the main ICO is set on November 29. The company has stated that it is envisioned to have the possibility of trading with tokens after finishing the process of the ICO on various trading platforms.