Blockchain holds the promise of delivering trust in trustless environments using decentralized and cryptographically secure ledgers. One of the most popular applications of blockchain technology are decentralized applications (Dapps). Ethereum is a leading DApps platform but a number of new rivals such as EOS and NEO are challenging its market dominance. In fact, it is no longer news there's an ongoing rivalry between Ethereum and EOS communities as both blockchains try to gain market dominance in the Blockchain as a service market for enterprise clients.
Ethereum is the older of the two blockchains and it enjoys the support of a consortium of high-profile enterprise clients who are exploring the possibilities of leveraging blockchain to improve their competitive advantage in their respective industries. The relative newness of EOS however presents it with an opportunity to bypass many of the pitfalls besetting Ethereum. EOS comes to the market with the promise of the latest advancements in blockchain technology to process a higher volume of transactions and at a higher speed than Ethereum.
Source: Smartereum
The thoughts of joining the Ethereum VS EOS debate is quite tempting but I think the arguments on both sides of the debate are overflogged already. Interestingly, most of the arguments are based around technical specifications which don't usually hold much importance to traders and investors. The cryptocurrency market is booming at an incredibly fast pace and EOS is also riding on the market boom. This piece attempts to beam the searchlight on the performance of EOS relative to Ethereum and Bitcoin with a view helping traders and investors make educations decisions about the direction of the market
EOS is booking massive games in defiance of the prevailing downtrend in the market
The EOS coin price charts for the year-to-date period shows an incredible 121% surge in trading price. In addition, EOS' trading volume has spiked by more than 1400% from $312M on January 1 to $3.96B on April 30. EOS' market capitalization has also soared more than 217% from $5.04 B on January 1 to $16B as in the same period (see chart below).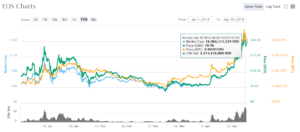 Source: Coinmarketcap
EOS YTD performance dwarfs Ethereum (ETH) performance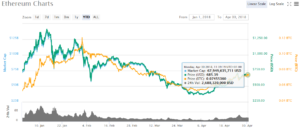 Source: Coinmarketcap
Ethereum has however been struggling to keep its 2017 gains as its performance in 2018 continues to head south. On January 1, Ethereum was trading around $765.51; however, its trading price has declined to around $685.39 on April 30 to mark 10.46% decline in the year-to-dater period.
Ethereum started the year with a market cap of $74.01B but its market cap has since declined to $67.95B to mark a decline of 8.18% in market price in the year-to-date. Ethereum's 24-hour trading volume has however climbed up marginally by 6.6% from $2.55B on January 1 to $2.72B on April 30.
Here's how EOS has performed relative to Bitcoin (BTC)
The fact remains that the impressive outperformance of EOS in the year-to-date period isn't representative of the performance of the general cryptocurrency industry. In fact, EOS's massive uptrend contrasts sharply with the decline in the performance of Bitcoin.
The trading price of Bitcoin has declined from $14,112 on January 1 to $9,186 on April 30 to mark a 34% decline in its trading price in the year-to-date period. The 24-hour trading volume of Bitcoin has declined from $12.13B on January 1 to $8.55B on April 30 to mark a 29.5% decline since the markets opened for trading this year. More so, the market capitalization of Bitcoin has declined from $236.73B on January 1 to $158.46B to mark a 33% decline within the same period.