Operating from Hong Kong, BitMex was founded in 2014 by web application expert Samuel Reed, ex banker Arthur Hayes and Ben Delo whose background spans across building high frequency trading systems. This dynamic trio brought over 40 years worth of financial experience to the project to provide investors and traders with access to the global market using only Bitcoin. BitMex incorporated in Seychelles and is unregulated in any jurisdiction at present.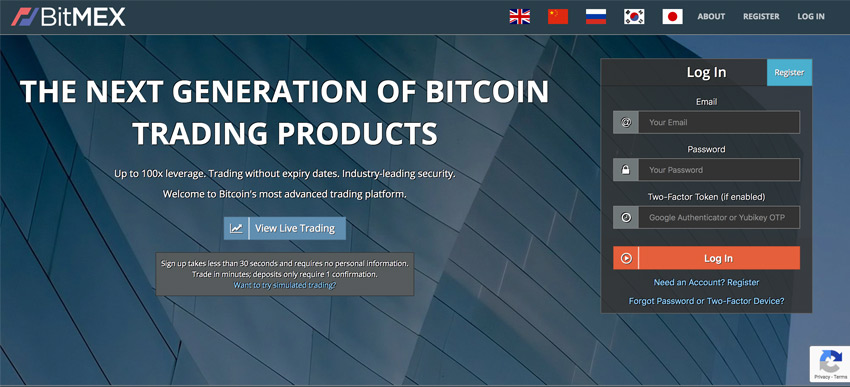 BitMEX, short for Bitcoin Mercantile Exchange, takes inspiration from the CME group which is also known as the Chicago Mercantile Exchange.
At the time of writing BitMEX has surpassed all competitor exchanges with its daily trading volume exceeding $1.2 billion dollars (~200,000 BTC).
The majority of cryptocurrency exchanges accept a wide range of digital assets for making deposits into the hot wallet however BitMEX currently only allows Bitcoin. However this has little impact on its user base as it is targeted more at professional traders with financial experience. The products BitMEX offers are based around derivative trading, more specifically Bitcoin futures, perpetual contracts and BitMEX UP and BitMEX down contracts.
In short derivative trading is an agreement between two separate parties that requires one party to purchase the underlying asset (Bitcoin) and the other to sell that asset on a date in the future. This doesn't have to be tied to a physical products but for the example below it is to make understanding the concept easier.
The best way to explain Bitcoin futures is using common day to day grocery shopping. If I gave you $20 dollars for 100 eggs ( Yup! I love eggs 🙂 ) the transaction is immediately settled, but with a futures contract the settlement is agreed at a specific time in the future for a set amount meaning two elements are the price and date of delivery.
For example a humble egg farmer may be worried that the egg consumption could drop or rise in the future for any reason and thus could take advantage of this by locking the price with the buyer which means a more financially stable company. The other party would agree to this price as they may think the egg price could change in their favour determined on the type of bet. Fast forward to the future, let's say the consumer demand for eggs rocketed due to a health trend, this might mean the price of eggs drops as sellers try to shift as many eggs as possible, the farmer is not affected by this as he locked in the price with a futures contract.
The above example of a futures contract works exactly the same but for Bitcoin, it could be based on rumour, hearsay, demand, news, regulation or anything that affects the price of Bitcoin. It essentially opens an arena for various parties to bet on the outcome based on speculation.
How to Sign Up to BitMEX
To setup an account with BitMEX, users need to register on the website by providing an email address, password, country of residence and full name. Once you have activated the account through email you can proceed with trading as no KYC or AML checks are required to deposit or withdraw funds.
BitMEX currently does not allow traders from the United States to register as it does not function within the legal framework. This is not necessarily a bad thing but could be down to a number of factors such as over zealous regulations by the SEC. It has been noted on social media that people in the US are bypassing the IP checks with a VPN.
How to Use BitMEX
Users can trade a wide variety of digital assets including Bitcoin, Cardano, Tron, Bitcoin Cash, Ethereum, Litecoin and Ripple cryptocurrencies against fiat currencies such as Chinese Yuan, US Dollar and Japanese Yen.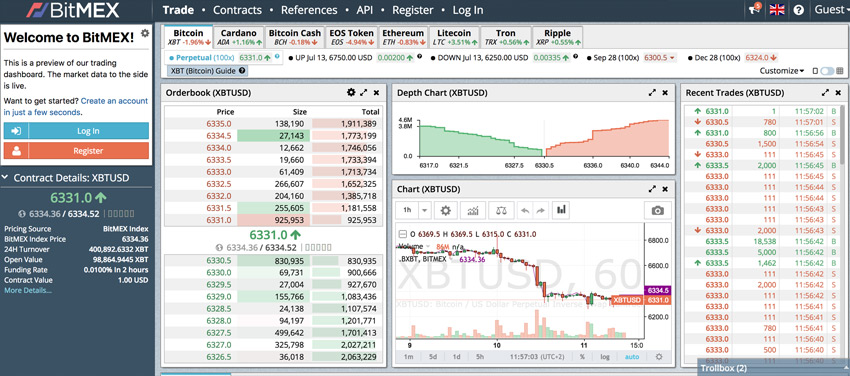 Unfortunately if you are new to financial trading then BitMEX will feel overwhelming but for those who have dabbled with financial instruments before it is easy to get to grips with. We do not recommend using BitMEX as a beginner unless you are very well versed in leverage trading.
All trading instruments can be found by clicking the trade tab once logged in.
To open an orderbook click as specific asset such as Bitcoin from the top pane, this will display the most recent trades in the right hand side tab followed by the trading chart and orderbook to the left. The charts can be used to analyse historical trading data.
You will also notice in the top right a customise button which allows the user to choose their viewing preferences with full control of the orderbook widget, depth chart, price chart, recent trades and positions & open orders. The trading chart data is fed directly from TradingView which is a recognised and trusted 3rd party data platform.
When a user places a trade on the BitMex platform it can be viewed in the trading interface with the option to view active and filled orders including the stops which are in place. All active orders can be canceled by the user at any point with the analysis of whether it is in red or black
Futures and Swaps
As previously explained a Bitcoin futures contract will enable a user to sell or buy Bitcoin in the future at a predetermined price. Users can leverage up to 100x on these contracts.
Perpetual swaps are not dissimilar to bitcoin futures other than that they have no settlement or expiry date but they trade along with the underlying reference Index Price whereas futures diverge from the Index price.
Prediction based Binary contracts can be also traded but they settle at 0 or 100 and designed for making a bet on any given event. Binary contracts are traded with zero leverage, a 0.25% taker fee, a, 0% maker fee and 0.25% settlement fee.
Leverage
BitMEX also enables traders to margin trade where positions can be leveraged by placing orders larger than the users current balance which could lead to a higher profit.
However margin trading can be extremely dangerous for inexperienced traders as all profits can be quickly liquidated, meaning the amount of money in their wallet will be taken.
The maximum leverage a user can take out is 1:100 which is much greater than other exchanges who sit at 1:20
BitMEX Fees
For Perpetual contrats BitMex has a 00x leverage, -0.00250% maker fee, 0.0750% taker fee, 0.0100% long funding, short funding fee of -0.0100% with a funding interval of every 8 hours.
The traditional futures fees for all tradable assets have a similar maker fee from -0.0250% – -0.0500%, although the leverage varies from 20x for example with Tron right up to 100x with Ethereum.
Deposits and Withdrawals
At present BitMex does not charge fees on withdrawals or deposits. When a user withdraws Bitcoin, the minimum network fee is set automatically based on the blockchain load which is currently low.
Users can withdraw and deposit Bitcoin at their leisure with no limits although the minimal deposit is 0.001 BTC.
To withdraw or deposit, a QR coded address is displayed when clicking the "account" tab along the top pane.
Although a user can withdraw Bitcoin at anytime, BitMEX has implemented a cut off time set at 13:00 UTC which means if you process a withdrawal after that it will be completed the next working day. This has been designed to stop automated deposits and withdrawals by bots or hackers on the hot wallet and provides the staff with sufficient time to cancel any fraudulent withdrawals.
Is BitMEX Safe?
BitMEX states on its website that it does not compromise security for convenience with their ethos based on rigorous and well tested security measures to make the platform bullet proof.
The deposit and withdrawal system is multisignature which means each time this processes is initiated its then checked by the majority of BitMex partners to ensures its legitimacy. By using multisignature it prevents users funds from being accessed by a hacker if they manage to compromise the hosting server or database.
The BitMEX trading engines uses kdb+ which is a database and toolset used by major banks and other high speed financial trading platforms.
PGP encryption is used for all communication across the board
BitMEX Customer Support
BitMEX runs a mixture of support and contact methods including IRC, Reddit, Twitter, support tickets and email contact for dealing with customer enquiries 24/7 which has often been praised as responsive on reddit.
Customers can also access an extensive frequently asked questions section for basic enquiries they may have.
Conclusion
BitMEX has an established following among traditional Wall Street traders who are familiar with margin trading. The platform is not designed or marketed towards beginners who simply want to purchase Bitcoin. In fact this is not even possible at the moment as you must own/ deposit Bitcoin before using the platform. So if you are looking to trade with futures and take advantage of the 100x margin, BitMEX is for you!
We advise everyone to start with a small trade due to the high potential losses which can occur with the type of trading on offer.
Users with no prior trading experience whom are simply looking to buy Bitcoin or other cryptocurrencies we recommend stepping away from BitMEX, you may want to read our review on the Binance exchange which is more user friendly for beginners.
Pro's
Great for experienced traders
Can leverage 100x
Fast trading engine
Con's
Hard to use for new traders
Can loose funds quite easily if not familiar with leverage trading
Controls a large portion of the market
Thanks for reading our BitMEX review, if you would like to visit the website for more information please visit: https://www.bitmex.com or check out the Reddit for any community support queries here: https://www.reddit.com/r/BitMEX/