Considering Binance? Read thew review below for our expert opinion
With so many cryptocurrency exchanges recently launching finding the right one for you can be challenging. Some trading platforms don't have the trading volume to buy or sell, others have limited features and slow trading engines that often timeout when executing orders, some have very slow verification processes etc.
Malta-based company Binance is a very popular cryptocurrency exchange not just with China but it's also used heavily international due to its high user volume, competitions and extensive number of features.
Whilst the company is still young, Binance does still have an extremely good track record in crypto exchange services and is on its way to a $1 billion dollar profit in 2018 alone. This is largely in part due to the impressive number of Initial Coin Offering listings the exchange adds to its platform, easy to use submission process and low trading fees.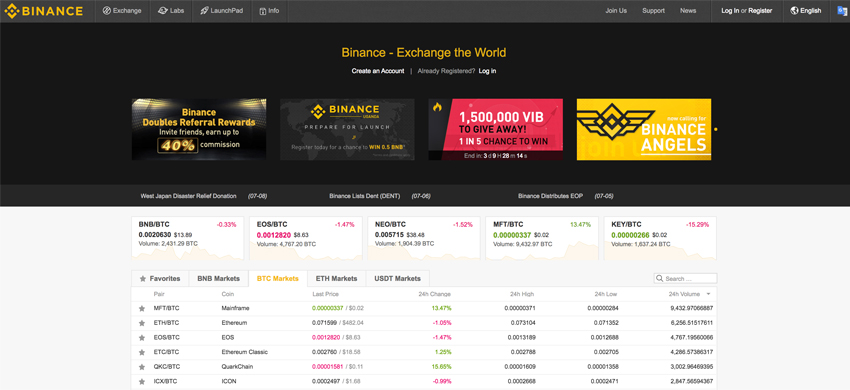 In this review we will try and outline everything you need to know about the Binance cryptocurrency exchange, including things like how it works, what coin/ token pairs can be exchanged, trading fees/ limits, how to secure your exchange and customer support information.
Visit Binance here: https://www.binance.com/
How the exchange works
When first visiting Binance you will notice how the platform offers two modes of digital currency trading – basic and advanced. To decide which works best for your needs a basic understanding of what cryptocurrencies are, how trading platforms work in general and what tools/ data you need access too when making buys and sells.
The main difference between the basic and advanced modes is the increased level of technical analysis and graph options available in advanced mode. These are not available in basic mode as they can over complicate/ overwhelm a new user who simply wants to submit simple buy or sell orders.
The basic view looks like this: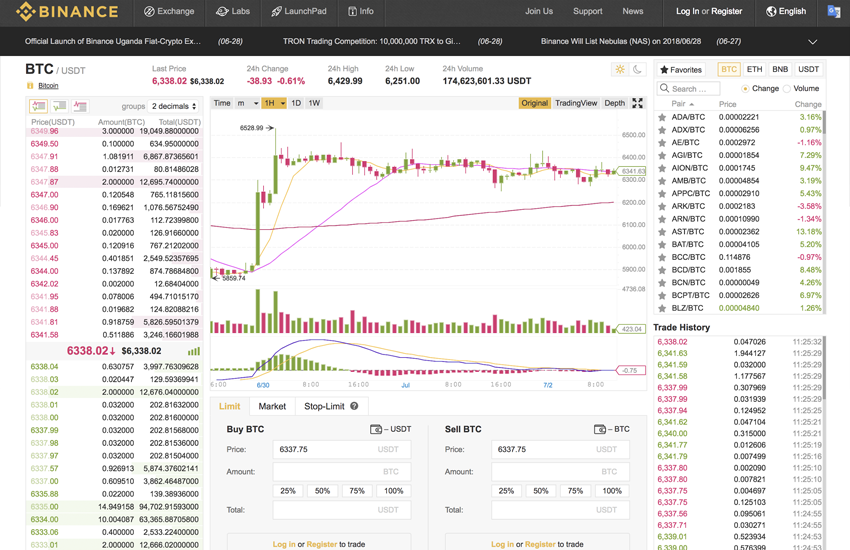 The basic view has three easy to follow columns and the design is simple to navigate. Buy (green) and sell (pink) prices can be found in the left column. Graphs and order boxes in the center and trade history along with trading pairs to the right.
The advanced view looks like this: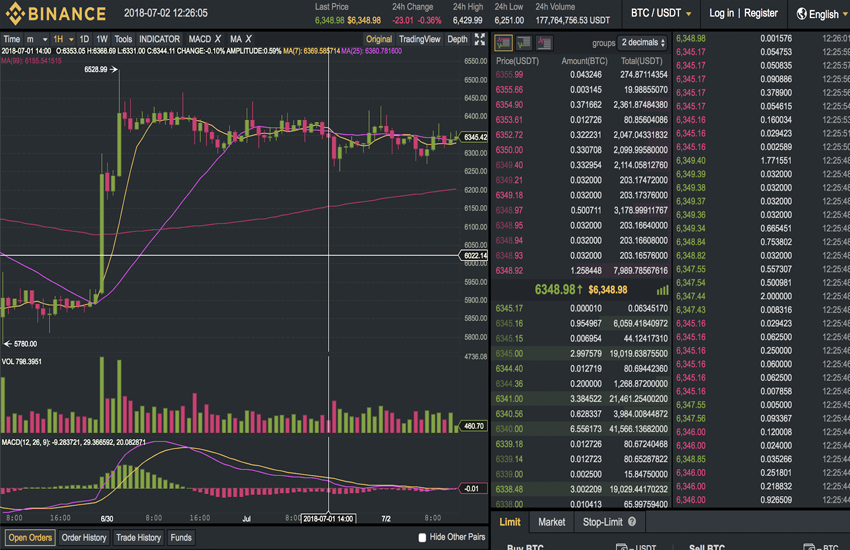 By default the advanced view uses a dark mode and the trading charts are more prominent. The layout also differs in that the prices are are shown to the right with the buy/ sell boxes below them. You will notice in the graphs there are more graph options and trading engine views/ algorithms.
Regardless of which view you prefer buying and selling is quick and easy with Binance where others are more complicated.
Binance Signup and Login
Before using the exchange an account needs to be created. This is a simple process where up on registration you gain immediate access with Level 1 verification. This offers a withdrawal limit of 2 BTC per day. Users can submit additional information such as photo ID to increase the verification status and lift restrictions. For example with Level 2 the daily withdrawal limit is increased to 100 BTC.
Approval time can vary depending how busy the platform is. It is very important that you verify for the appropriate level asap to ensure you can quickly moves funds around when the time comes. It is also recommended you verify before depositing large funds.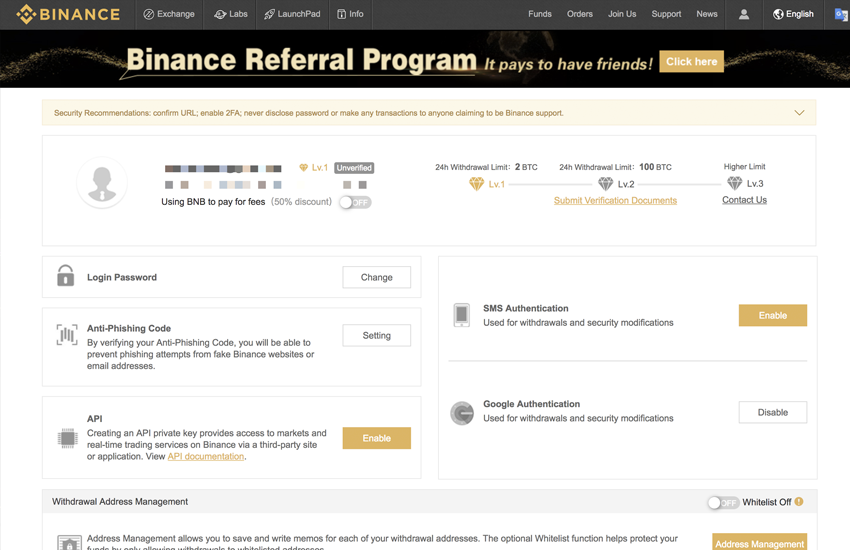 This might also be a good time to increase your account security and set up 2FA. SImply follow the on screen instructions to set this up.
With the account set up you are ready to go ahead and fund your binance account. To start with it is recommended that you stick with more popular currencies such as BTC and ETH.
To fund your account click the Funds > Deposits at the top of the page. Then select the coin you wish to transfer INTO your Binance account.
Once selected, a box will be displayed with a deposit address. Simply send your funds to this address to begin trading from your personal off-exchange wallet. Depending on the currency being transferred in the time and and require conformations can vary. For example currencies like Ethereum are faster than Bitcoin which can take a while. Binance notifies you via email once the deposit is in your account.
How to Trade on Binance
Binance makes it very easy to get started with trading, especially with the Basic Mode. Once your funds are deposited in the account simply click Exchange > Basic in the top menu.
At the top of the right column you will see options for trading pairs in BTC, ETH, BNB and USDT. These indicate what coin you wish to purchase your new currency with. In our example we deposited BTC in to our account and will use the BTC pair to buy a new currency. Click it.
We then choose the new currency we would like to buy. In this case we will use ADA (Cardano) as an example so click ADA/BTC.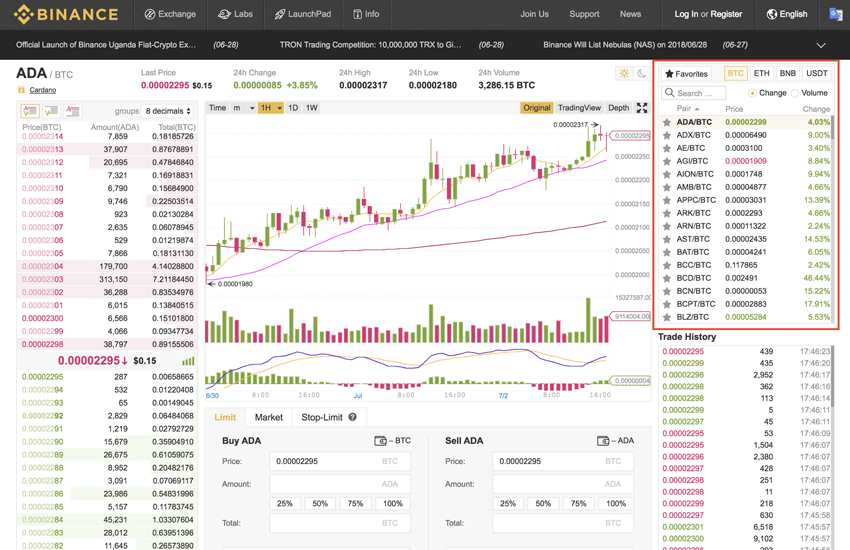 Once you have clicked the currency in the right column the middle column will be updated to reflect this.
Now to place a buy order, use the middle column below the graphs to buy/ sell ADA. In this case we wish to purchase currency so will use the buy box to do so.
You can manually enter a price you wish to purchase at, but a more efficient way is to purchase using the presets (25%, 50%, 75% and 100%). For example if you click 100% it will use all your BTC balance to purchase the new currency. If you click 25% it will only use 25% of your BTC balance etc. Then click the buy button.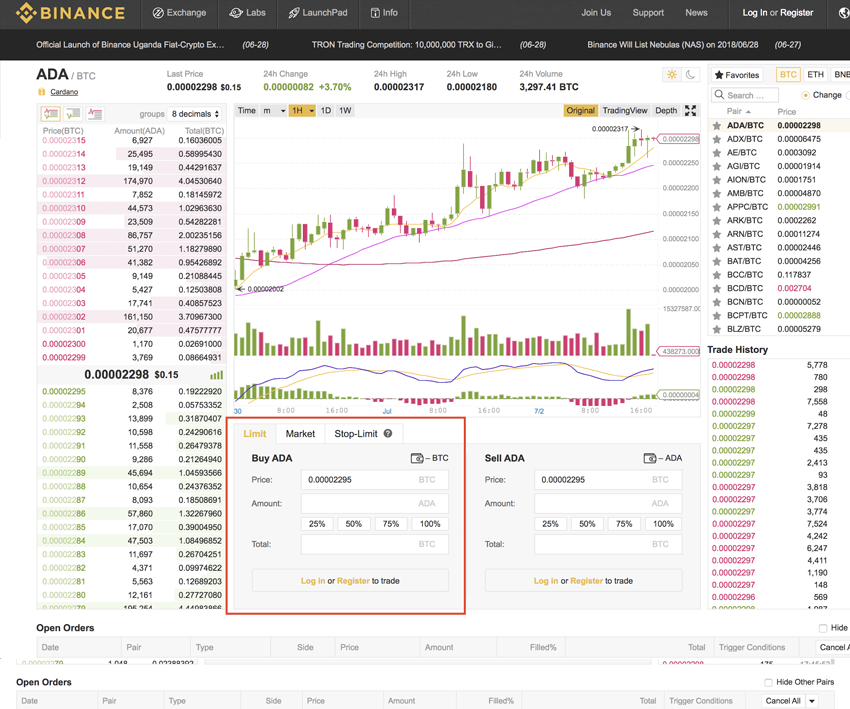 Once the order has been placed it will show below in the Open Orders section. It will remain here until it has been filled (completed). Once filled you can then confirm that you have purchased the currency by clicking Funds > Balances in the top menu.
The selling process would be exactly the same only you would use the sell box instead of the buy one.
If you would like to withdraw your currency from Binance and move it to a different wallet you would click Funds > Withdrawals in the top menu. Select the coin you wish to withdraw, add the wallet address you wish to send to and the amount to transfer. The click submit. It is advisable to try a small test to ensure the address is correct and all is working as expected.
Supported Crypto Currencies
Binance is a very popular option amongst users for its wide support for currencies. Many traders use the platform for multiple digital currencies, including, but not limited to Bitcoin, Bitcoin Cash, Bitcoin Gold, Ethereum, Ethereum Classic, EOS, Dash, LiteCoin, NEO, GAS, Zcash, Dash, Ripple and more. Binance also supports a very large number of tokens, as part of ICO listings.
The platform is regularly praised for its efficiency in supporting new coins and tokens. As previously mentioned they currently offer trading pairs in BTC, BNB, ETH and USDT and very soon Euro and possibly GBP sterling.
Binance ICO & BNB Coin
As well as operating the exchange Binance also launched its own ICO and token – Binance Coin. This can be used to pay your transaction fees on the platform and thus reducing fees. The token will also play a large role in their Decentralised Exchange where it will form one of the key base currencies.
Purchasing the Binance coin will likely be a good investment for the future as the exchange plans to use their profits to buy back a portion of the coins every quarter and destroy them. This will result in a decreasing supply, making them more valuable for holders.
Binance Fees & Limits
At the time of writing Binance charges an average fee of 0.1% on each trade made through the platform. However those who wish to pay these fees in Binance Coin (BNB) receive a 50% discount on the trading fee.
With regard to withdrawal fees these change from currency to currency and can easily be checked by going to the withdrawals section and choosing the coin to withdraw. The current fee is then displayed.
Binance has 3 levels of verification. As previously mentioned account withdrawals are restricted based on the level of verification however deposits are not. You can deposit any number of coins into the platform without limitations.
At the time of writing the withdrawal limits are as follows:
Level 1 (new default user) – 2 BTC
Level 2 – 100 BTC
Level 3 – Contact
The verification process requires users to provide Binance with their full name, country, gender, a photo of passport/government-issued ID card, and a selfie with the passport.
Binance Competitors
Although there are a number of great exchanges one unique feature to Binance is the regular competitions and prize draws. Many of which include coin giveaways. In the past these have included Waves and Tron.
The waves competition gave away 20,000 Waves to traders based on how many trades they have made of this currency.
They also gave Tron (TRX) participants the chance to win a Maserati, Mercedes Benz, a Macbook Pro or a iPhone X. Again, the winners were the people with the highest trading volume of this currency.
Some of Binance's competitors you may want to consider include Bittrex, Kraken, Cryptopia, IDEX, and Bitfinex.
Is Binance Safe?
Although Binance is one of the newer cryptocurrency exchanges it is still considered one of the best. It has quickly managed to move up the ranks and gain high levels of user trust and community approval. However, the exchange does not provide users with enough information on how funds are being secured. Two-factor authentication is also available to secure individual accounts. It is however known that the platform offers a multi-tier and multi-tier system architecture, possibly multi-signature where many parties must sign the transaction to withdraw or move large funds.
Although we think Binance is a fairly secure exchange, nothing is un-hackable so we recommend if you are not actively trading and holding your cryptocurrency for a long time to store them in a hardware wallet, you can see our Trezor Vs Ledger Nano review for choosing one of the two wallets we consider the best you can buy right now.
Update: In March 2018 Binance suffered a hacking attempt.
In March 2018 a 3rd party tried to pull off a hack, however it was caught and thwarted by automated systems in place at the exchange. For months the hackers had been accumulating people's login credentials via a phishing website and secretly installing API access on the affected accounts. They then struck, converting all the victims altcoins to BTC and purchasing Viacoin, pumping the coin to a huge price and then selling their own supply of Viacoin at the highest point, before then withdrawing the BTC to their own wallets. Thankfully no one lost funds as the hack was caught and the only people to lose out were the hackers, whose funds will be donated to charity.
As this hack was only made possible by users falsely entering their credentials on a fake phishing website, this was not directly the fault of Binance. You should always make sure you are on the correct Binance url before logging in. We recommend you bookmark the site and only use that to access it, never click links from emails, Twitter, Telegram etc.
The way in which this issue was handled by Binance has done a lot to instill confidence in the platform. Not only did their automated processes catch the attempted hack before anyone lost any funds, but the team have also since offered a $250,000 bounty to anyone who can help catch the hackers. Throughout this event, Binance acted exemplary and have been praised for their swift action in mitigating and resolving this hacking attempt.
Binance Customer Support
For any exchange to be successful it needs to have great communication and support in place for customers. Once that can answer questions, fix problems and given crypto trading advice in a timely manner. While the support can always be better the team is responsive and capable of offering professional aid to users. Support tickets are submitted via an online form featured on the website, and responses are provided via email. There is currently no live chat support, nor a phone number where customers can get in touch with the support team.
There is also an FAQ's page which offers information on some of the more common questions users may have.
Binance Moving to Malta?
In March 2018, Japanese Newspaper Nikkei reported that Binance was trading in Japan and not following their official regulations. This caused some turbulence in the markets until Binance made an official announcement that they were moving operations to the crypto-friendly island of Malta in Europe, most recently a whole new bunch of laws have been voted into the country securing the exchanges future.
This is good news for the company and the community and they even received a warm welcome from the Prime Minister of Malta on Twitter. Binance also announced that they were in talks with Maltese banks with the goal of providing Fiat pairs. This would mean they can offer access to fiat to crypto transactions in future along with fiat trading pairs on the exchange.
More good news for Binance, it seems as their profile and reputation within the industry continues to from strength to strength.
Another key area Binance will most likely improve on is with the banking situation, its suggested that the exchange will provide deposits and withdrawals from a Maltese bank in Euros and Sterling meaning lighting fast transactions if the bank is in the SEPA network.
Launching a Decentralized Exchange?
Binance also recently announced that they would be loaching launching their own Decentralized Exchange (DEX) and BNB holders will benefit from this greatly.
The BNB digital asset, now an ERC-20 token, will migrate as the native token of that network and be used for paying the trading fees on the new exchange.
Binance Conclusion
Binance is currently one of the most used exchanges with a growing portfolio of supported currencies making it a big contender for anyone trying to break the market. The exchanges matching engine is capable of processing approximately 1.4 million orders each second, making it one of the fastest exchanges available on the market. Additionally, the exchange works on a wide range of devices devices, including web, Android, WeChat, and HTML5. Non-English speakers will be happy to know that Binance also offers multiple-language support in Chinese, English, Korean and Japanese.
Pro's
Trading engine is extremely fast
High volume for selling & buying
High number of assets/ cryptocurrencies supported
Good customer support
Con's
Exchange is not decentralised
Binance Coin is expensive to buy
Large share of the trading volume, if hacked could tumble the crypto market significantly
Security and support may be a problem when
Thanks for reading our review of Binance, if you would like to download the iOS app please see here: https://www.binance.com/ios-install.html for further support on Reddit see here: https://www.reddit.com/r/BinanceExchange/ to login please visit binance.com only to avoid phishing attempts.