A new blockchain based content platform, Decentralized Accessible Content Chain, has listed their native and transaction currency DACC to the leading cryptocurrency exchange platform, KuCoin.
Deposits are now available utilizing KuCoin's official apps on Android and iOS or direct to their website, www.kucoin.com. Buying will start at 19:30 pm UTC+8 while selling/withdrawal at 20:00 pm UTC+8.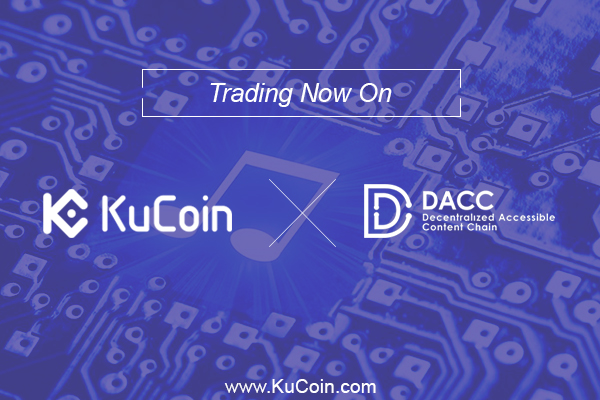 About Decentralized Accessible Content Chain (DACC)
DACC is the world first decentralized IAM (identity and access management) based content blockchain with exceptional blockchain infrastructure and complete developer tools and templates to build any content related to DAPP. DACC is devoted to solving the concerns of unclear and abuse of content and user data rights in the digital media business.
The project's core team members recognized as from famous institutions such as MIT, Harvard, CMU, Tsinghua with substantial experience in blockchain and software. DACC has also garnered an impressive list of early investors and partners such as TRON, Consensus Capital, D Fund, Crypto Capital, Block VC, Kim's Capital and more.
DACC ("DAC") has a top-notch international blockchain core community, 128 world-class advisors, and investors with backgrounds in the blockchain, investments, technology, and law. DACC's foundation partner, Sky, is the co-founder of the 3 AM community and 499 Community. DACC not only has China's largest community support but also has hundreds of thousands of foreign community supporters.
About KuCoin Cryptocurrency Exchange
KuCoin is a cryptocurrency exchange begun on September 15, 2017. The platform uses KuCoin Shares (KCS) in a related way to Binance. Users acquire a discount on trading charges when they use KuCoin tokens.
Overall, KuCoin intends to be a more user-friendly exchange than traditional exchanges available at present. The platform shares 90% of transaction fees with users, for example. They also offer 24/7 customer service and generous referral bonuses.
KuCoin has also been recognized for posting coin pairs before they operated other major cryptocurrency exchanges. The website highlights a list of coins scheduled to be added on their platform.