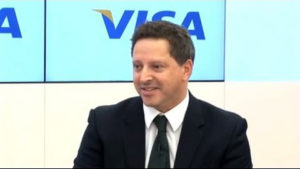 Marc O'Brien, former CEO of Visa UK, a key advisor of Revolut and one of the United Kingdom's leading payment services experts, has been appointed CEO of Crypterium, the world's first mobile crypto bank.
Marc has over 25 years of experience in Financial Services, FinTech and RegTech.
He has been a long time advisor to MasterCard before joining Visa, where Marc held a number of significant positions, including 6 years as CEO of Visa UK and Ireland, company's second most important market. During Marc's time as CEO, Visa's business doubled from $250 to $600 million with market share of debit card payments increasing to 97%.
Marc also started and led the contactless technology programme in the UK and with Transport for London from the very beginning to its multi billion transaction rollout.
After leaving Visa in 2014, Marc has been a key advisor on some of the most exciting startups in the UK, including Revolut where he was advising CEO and team on product strategy, growth strategy, and marketing. He was effectively the third person in the team after the two founders.
Recently, Marc also advised the UK's Royal Mint on the possible creation of a Gold backed Crypto Token.
Following the global search by Sheffield Haworth, Marc will now lead the launch of Crypterium App that will let its users pay with cryptocurrencies with the same ease and convenience as with cash or credit cards. Users will be able to issue virtual cards, link them to Apple Pay, Samsung Pay or Android Pay, bind them to their crypto accounts and pay at any NFC terminal, or via scanning the QR codes.
"I am delighted to be joining Crypterium at such an exciting time. I strongly believe that cryptocurrency is about to go mainstream and we can be pioneers to build Crypterium into a terrific business," says Marc.

"We are genuinely very excited by Marc's appointment. He brings the experience and know-how to build a global banking solution that will have no peers," adds Austin Kimm, COO of Crypterium.