For the past years, online booking concerns on hotels and other accommodations have been a common issue among individuals. Extra charges have been imposed that becomes economically unwise especially to budgeted travelers. Locktrip, the first and one of its kind, is a blockchain based decentralized project that aims to solve this problem.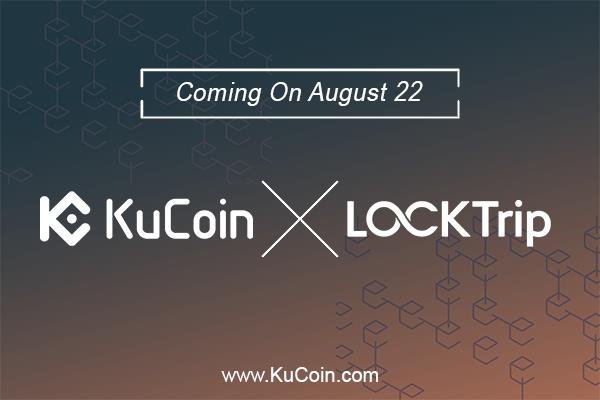 Today, as part of their marketing extension, they are proudly announcing that they have listed their native currency LOC to one of the leading cryptocurrency exchanges in the world, KuCoin.
LOC token is now available for deposit utilizing KuCoin's Android and iOS apps, or to their official website, www.kucoin.com.
Other transactions such as buying start at 19:30 UTC+8 and selling/withdrawal at 20:00 UTC+8.
About Locktrip
LockTrip is a marketplace intended for travelers who want to obtain cheaper rates through the absence of expensive intermediaries. Like most centralized websites, property owners often contract costly fees that are passed down to the consumer when booking hotels and other accommodations. LockTrip aims to significantly lower these rates.
How Locktrip Works
Modern travel websites that aid booking accommodations, such as Expedia or Airbnb, are centralized and thus demand some charges towards both property owners and customers, and additionally require middlemen to transact payments. LockTrip will evade the need for these expenses by setting the marketplace on the Ethereum blockchain, which will decentralize the process and offer full transaction transparency.
Property owners will be provided the opportunity to add and update their listings on the easy to access LOC Ledger interface. With the offer of simplicity and one-click solutions, proprietors will find LockTrip not only saves them money but executes the transfer of listings from current platforms especially easy.
Customers also experience savings and usability with the help of LockTrip. With access to both a desktop and mobile marketplace, LockTrip will offer easy to use explications for travelers searching for rental accommodations, and a lack of commission fees will support them continue to save money.
The LOC Token
The whole LockTrip system is established on the LOC token, which will be presented available during a token sale. Hotel and property owners who want to be listed on the LockTrip marketplace are compelled to hold LOC tokens; however, renters do not significantly need them, as any currency they use to book will be automatically shifted to LOC. However, the utility of fiat or non-native currency will result in marketplace charges that can be circumvented with the use of LOC.
LockTrip is the first step in the decentralization of hotel and short-term rental property booking, and with the presentation of money-saving choices for both owners and renters and an easy to use marketplace, it may transform the concept of booking effectively.