We had the pleasure of chatting with Zac Cheah, CEO and Co-founder of Pundi X, in an exclusive CoinSpectator.com interview, to find out more about one of the most exciting companies in the crypto space.

Not heard of Pundi X? The firm is digitalising the retail industry with some amazing technology that will make using and buying cryptocurrency at your local shop as easy as buying a bottle of milk.
Let's begin:
When specifically will customers be able to pay at Pundi XPOS terminals with RFID or NFC via contactless?
We've shipped. The first 5000 XPOS devices are on their way to pre-order customers.
Exactly when they finally arrive will vary in each country and according to local import laws and regulations.
We expect that by the start of September the Pundi X POS will have been stress-tested in busy, large-scale and public retail environments.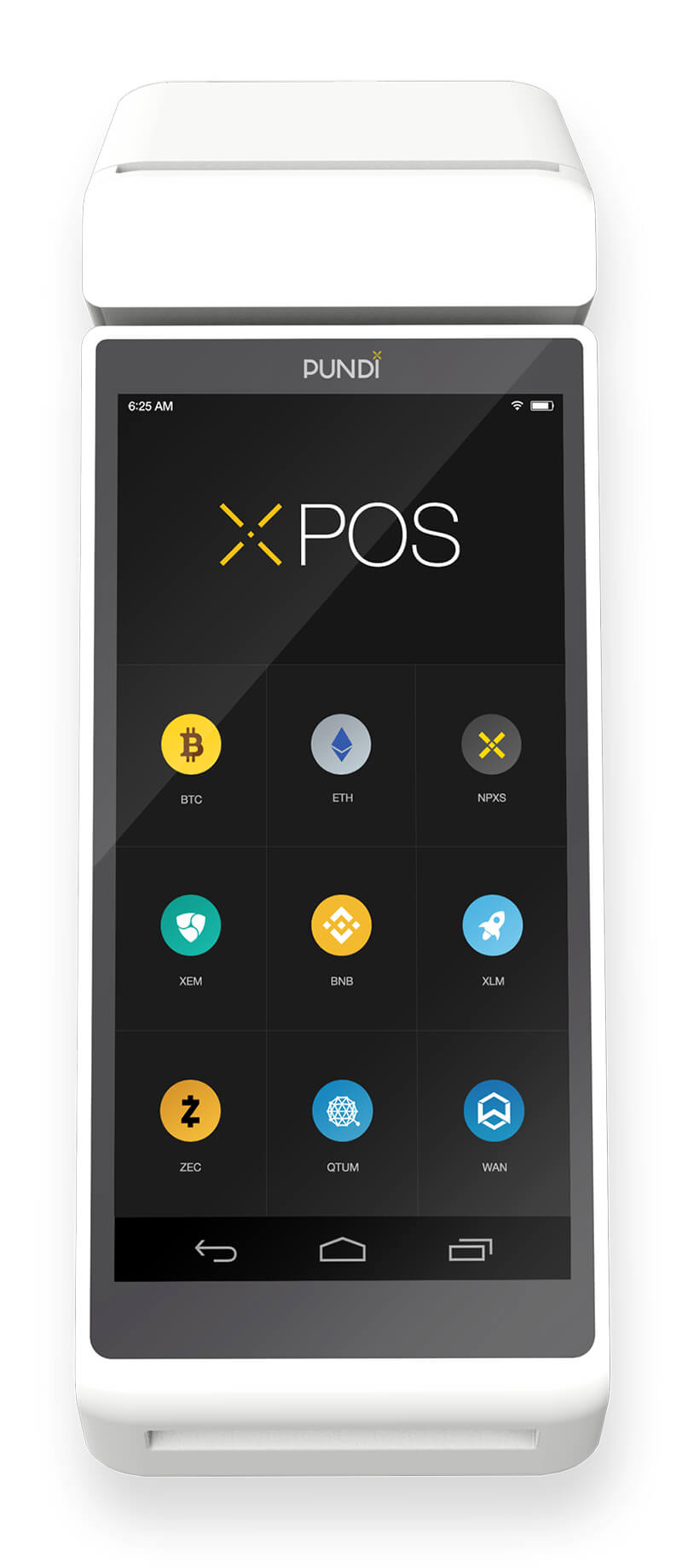 The UK has a large number of convenience/ mini mart chains, each with a healthy number of local shops such as Best-one, Nisa, Premier Stores, Costcutter, Londis etc. Are any of these chains such as these integrating with Pundi X terminals?
We enter into very serious and thorough confidentiality agreements with our merchant partners before deployment. I hate to be boring but a promise is a promise.
What do you think will drive the adoption of consumers paying with cryptocurrencies as opposed to using their current options?
I think the biggest obstacle to using cryptocurrencies for payments is the lack of an easy and simple option for using them.
This is especially the case in real stores. There are some work around payment methods available in store now, but none is a serious competitor to the old point of sale system: what customers and merchants are used to.
Rather than requiring consumers to master long alphanumeric addresses and private and public keys our products, the XPASS card wallet and XPOS point of sale device, provide physical representations for the digital payment revolution. The majority of consumers and retailers will be more familiar with these and more comfortable with adopting them, though we also provide entirely digital solutions, like the XWallet for the dyed-in-the-wool crypto enthusiast.
Data already shows that when people hold cryptocurrency they will spend it. E-commerce sites in countries like Japan have successfully opened up to crypto-based spending for everything from electronics to air fares. Elsewhere you see that global travel hotspots (such as Bali and elsewhere) are also highly popular locations for cryptocurrency trading because people want to put their holdings to use when they need to.
But the chances for doing so today are pretty limited, which is probably what has fuelled the perception that cryptocurrency is mostly seen as a store of value or a speculative asset. By expanding its usefulness and making available in stores and making it easy we seek to expand crypto's reach and make it part of the consumer economy. Nothing could be more important for mass adoption.
Which countries do you see adopting Pundi X terminals most quickly?
Korea has long been an international centre of support for Pundi X. I suspect it will continue to be so for some time.
But other places are, unexpectedly, emerging as new key markets for us. The support we've had in South America has been remarkable.
We didn't expect to be as popular as we are in countries such as Colombia, Brazil and Argentina at this stage of the business. But there we are. We've held several meetups across the continent and the response and interest from regulators, merchants and partners has been overwhelming. That's what's led to us opening a South American headquarters this week. We'll have more to say about future deals in a short time.
Quite a lot of startups are trying to enter the terminal/ crypto space, how does Pundi X aim to gain the competitive edge? I assume once a retailer installs a terminal via one firm they will not want to have two or three.
When we started this journey a year ago, we were competing against the big players in the status quo – Ingenico, Verifone, Eftpos. Now, we also have to compete against other companies that seem to be moving into the crypto POS space.
Our biggest advantage, setting aside for now the many benefits of our technology, is probably our head start and we've been the first to market with a working product and working for the longest to improve upon it. Actually, we had a working prototype produced by November 2017, when we launched our public token sale. Here we are now, 9 months later, and we've been through more than a dozen different iterations of that same device in development before arriving on the version we are now shipping to international retail.
Many of the new competitors on the crypto POS scene are not yet where we were in November. It's a long road to travel from there.
Are Pundi X terminals provided free to stores?
No, but we charge a competitive price: between $225-$300 (USD) depending on the quantity of a customer's order.
Why should shops choose Pundi XPOS terminals over traditional terminals that also offer contactless payments?
At this stage, the primary motivation of most Pundi X partners will be to offer their customers the ability to pay in and buy and sell cryptocurrency. That is a unique value proposition in the market today. No one else offers a POS device with support for leading cryptocurrencies that can be so easily integrated into the process flow of a retail store. I'm confident of that.
But dig a little deeper and there are plenty of other compelling reasons to buy an XPOS.
We call them the smartest POS devices in the world. I think we can say that without contradiction. Not only can you pay in crypto but with just about every conceivable payment method in the world, from credit and debit cards, to Apple Pay, Samsung Pay, etc. etc.
Even in the cheapest markets in the world we are well below the price of leading competitors and dominant market players. In some instances, a market leading POS for a restaurant will cost $1500 (USD) in initial outlay for a unit that also requires ongoing rental fees.
By contrast, the Pundi X POS can actually generate revenue for retailers – any and all (small) fees levied on transactions go to the retailer and not to Pundi X.
What currencies will be supported by the terminal when it first launches?
For the pre-ordered XPOS we'll be shipping with Bitcoin, Ethereum, NPXS and BNB payment options on each device. But an update scheduled soon after they are first received will expand the supported range of currencies to include tokens such as BNB, ZEC, WAN and many more. Software updates, including those expanding the number of supported coins, will be released periodically for download.
Your f(x) blockchain is currently in an internal test environment. When will this be launched on the main net?
We wanted to run f(x) on a test net environment from the outset to show we are serious about its implementation.
We haven't disclosed a date for the launch of the mainnet proper yet but at this stage it's forecast for coming months.
As with many blockchains the bottleneck is currently scaling. How is Pundi XPOS tackling this problem and how long will it take to launch the terminals?
Addressing the blockchain bottleneck is one of the very core reasons we decided to launch an open ecosystem, known as f(x).
With our plan to roll out 100,000 XPOS in three years, we will be able to scale up transaction numbers significantly along with shipping, as each device in the field can act as a node, distributed across a wide geographic area. (Currently we're shipping a batch of 5000 but have orders out for more than another 20,000 XPOS; a total figure expected to increase in coming years).
But it's more than just a raw power-in-numbers game; the benefits are greater than that. Many of the solutions already in the works for improving blockchain throughput, such as sharding require on the availability of a large amount of nodes in order to divide networks into smaller, more efficient pieces. Blockchains will need more available nodes for sharding to result in speedier confirmation times.
Finally, a large, geographic spread of nodes, like the global distribution network of the XPOS we're pursuing, will help achieve consensus on a blockchain more quickly. Proofing a blockchain against collusion ideally requires a geographically dispersed sizeable network of nodes so that consensus can be achieved with integrity and at speed.
Our plan for f(x) is essentially a means of supporting two of blockchain's biggest virtues: openness and decentralisation. We're building a platform that will work as truly decentralised infrastructure which can serve all other public chains and grow and fuel the broader blockchain ecosystem. We also want to grow the utility of the blockchain world and will be encouraging developers to submit truly apps for inclusion on our platform.
From our research Square appears to be a major competitor in this space, what advantages do you have over them?
Global retail payments is an industry set to surpass $2 trillion (USD) this coming year. There will be several contributions to changing the face of a market this size. What's our point of difference? Ease and simplicity, in two words. And much of that comes down to our POS device.
For early adopters and crypto enthusiasts – the significant but still, on a relative scale, very small pool of people currently holding cryptocurrencies – navigating mobile apps, copying and pasting long addresses and sending off digital money while waiting in line may seem like no obstacle at all.
For the other 99 percent of consumers – those who make up the vast majority of the $2-trillion figure – we believe it will.
Our XPOS and XPASS card provide physical representations to digital and cashless experience. And they can be easily subsumed into the current process flow of a retail checkout store. We think this will make them more appealing to most consumers and most retailers too.
Of course, we will continue to offer digital versions of our products , such as the XWallet app and our XPOS can integrate with most any digital currency wallet.
But we think to open the doors to cryptocurrency to the remaining portion of the consumer economy you have to first make them easily spendable. That's what we're trying to do.
You can find more about Pundi X here: https://pundix.com/