S Block Wallet brought a new wave of arbitrage in recent years. However, is this platform irreplaceable and flawless? Can the new kid in town, AI Gain surpass the mighty S Block? Below are the comparisons between these platforms, perhaps they might provide you with more investment inspiration.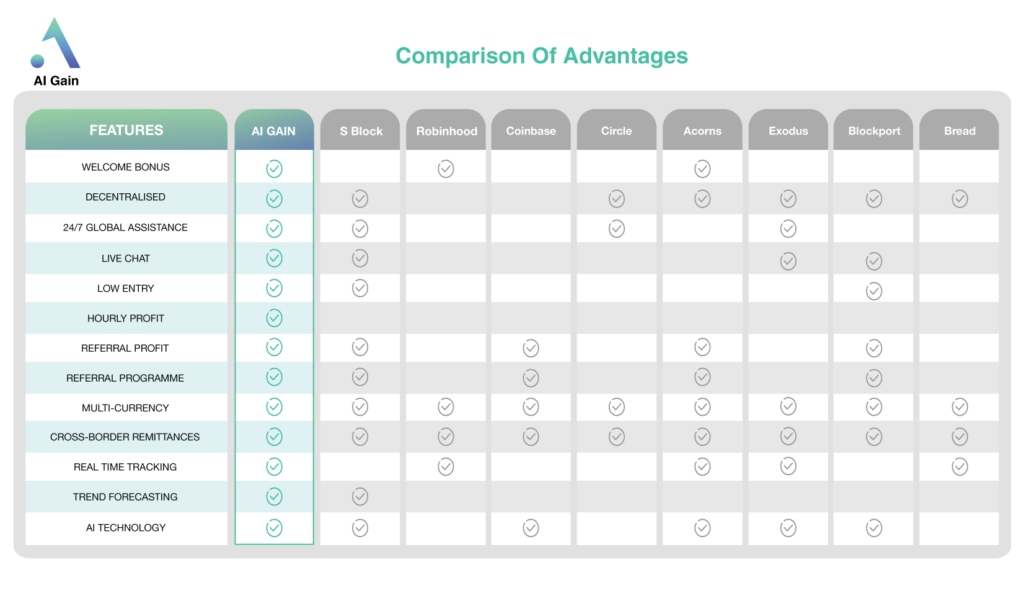 Similar but Different
Both AI Gain and S Block Wallet are one stop platforms for arbitrage, thus their fundamental models are similar. Despite not having a major platform and without grand advertisements, AI Gain offers diverse plans designed for investors who emphasise long-term investments and continuous profits.
Identity Verification Procedure
Users only need a copy of their ID card front page to complete verification procedure for S Block Wallet. On the other hand, investors are strictly required by AI Gain to upload a copy of their ID card front and back pages with a picture of them holding their ID card front page. Such Dual Authentication provide investors another layer of security with the objective to avoid hack. Besides, successful verification will directly unlock all functions in AI Gain.
Welcome Bonus
Practical execution is what matters in life, which is why AI Gain is offering a welcome bonus of $300 for new investors to testify its trading functions in real trading environment. In other words, we allow you to test the water before investing any capital in AI Gain. Having said that, such free experience cannot be found in S Block Wallet.
Hourly Profit
Trading experts emphasise that investment with compound interests is the steppingstone to a greater wealth. In light of this reason, AI Gain's Hourly Profits that are timely, accurate and detailed allow investors to gain more compound profits as compared to S Block Wallet's Daily Total Profit. It is vital to be quick and efficient when it comes to winning the battle in the era of digital assets market.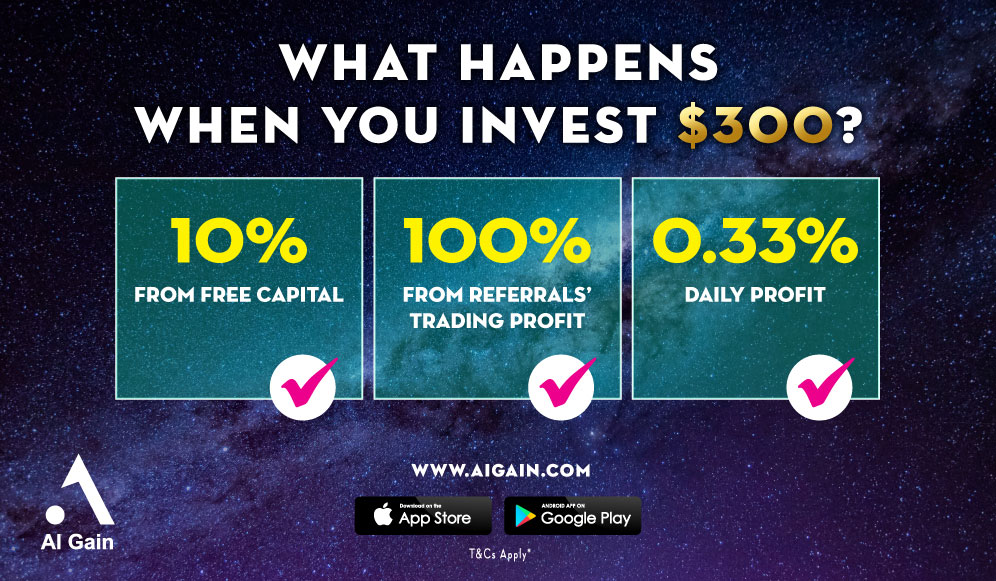 Referral Reward
AI Gain offers investors with successful invitees a reward of $30 each, a benefit which is unparalleled as compared to S Block Wallet.
Long Term Investment
AI Gain introduces many long-term investment plans; The longer the investment, the higher the return. Investors may gain extra profits based on continuous investment duration. For instance, investment which is longer than 31 days will receive 1% extra bonus while those which exceed 221 days gain up to 5% extra bonus. Besides, AI Gain Booster Programme offers investors to accumulate boosters through investment capital and profit. See addition information at advantage No. 8. Such plan has not been launched in S Block Wallet.
Direct Referral Profit Reward
AI Gain Referral Programme only offers rewards for investors with successful invitees. Such "One layer" mechanism is simpler than the upline-downline mechanism in S Block Wallet.
S Block Wallet's referral profit is based on the number of team members, obtaining static income from the 1st to 15th generations. 1st generation downline offers 100% profit, while 2nd to 10th generations 10%, and 11th to 15th generations 5%. Such downline development and multi-layer profit features are controversial and considered as illegal Pyramid Scheme.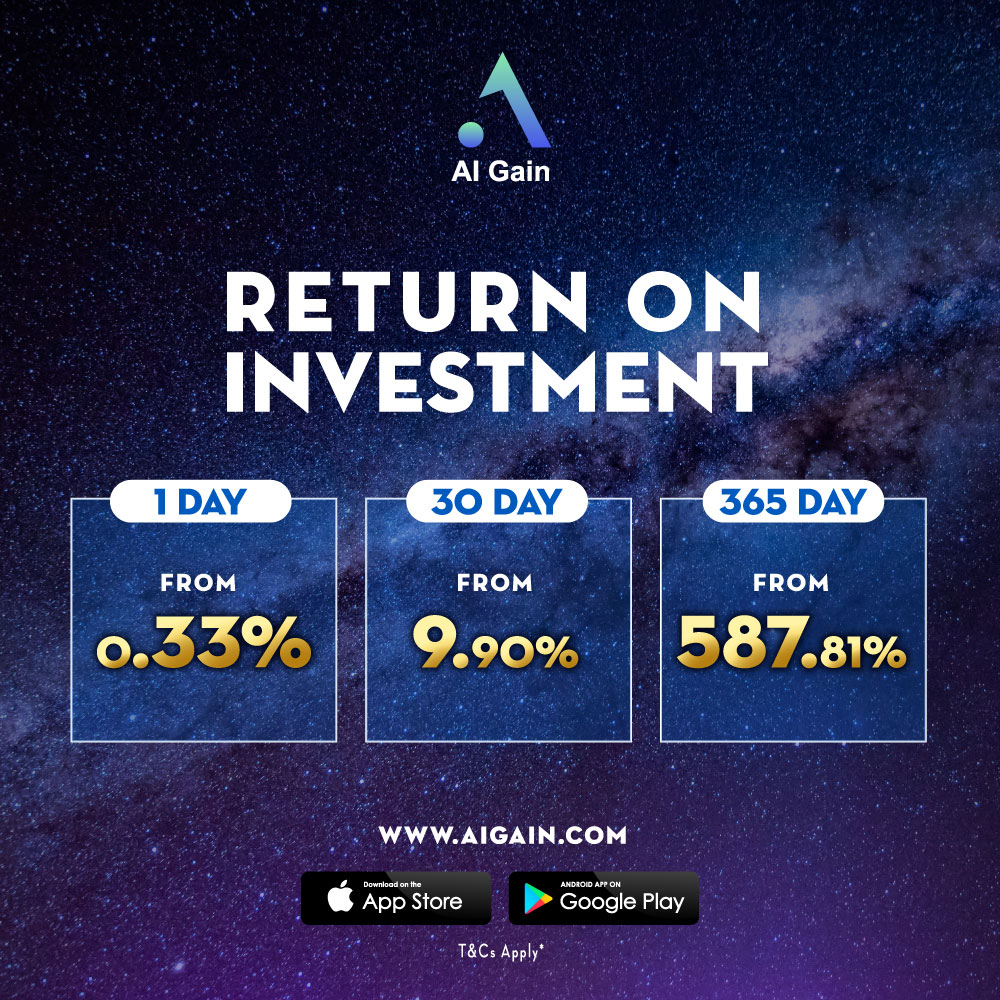 8. Level Advancement
S Block Wallet has 5 levels; it offers peer profit and community reward to investors based on their numbers and levels of direct invitees as well as the team's performance. Such multi-layer chain profit and calculation are too complicated. That being said, AI Gain's 6 levels are only based on investors' capitals. As long as the capital reaches next level's requirement, investors may accumulate more boosters to boost investment duration and achieve higher extra profit.
Application Management
S Block Wallet users can only access their personal account through mobile application. Nonetheless, AI Gain not only has a mobile application, but also has information and mobile websites for investors to perform trades and view account information. Besides, our websites have synchronised exchange rate and latest news, offering investors with convenience and real-time tracking.
Supported Languages
Both AI Gain and S Block Wallet support registration from countries across the globe. While the former offers 7 languages, the latter only offers 6 languages. What's more, AI Gain also supports both Traditional and Simplified Chinese, providing global Chinese investors the utmost convenience.
It is worth mentioning that starting from a value of 1USD each, AIG coins managed to surpass the value of 3USD each in only TWO months. As the leader of this industry and sector, AI Gain will build a firm and reciprocal environment through the aim of achieving compound interests. If your investment goal is the same as ours, feel free to explore better experience via AI Gain. (link: https://www.aigain.com/index.html)
Follow us:
Facebook:https://www.facebook.com/aigain.official/
Instagram:https://www.instagram.com/aigain.official/
Twitter:https://twitter.com/AIGain_official