AdHive, an AI-driven influencer marketing platform, announces the ICO of ADH, its platform-wide cryptocurrency. The start of the Token Presale is scheduled for January 10, 2018 at 14:00 UTC and will last until January 27, 2018 at 14:00 UTC, with plans to issue 450,000,000 ADH at the initial exchange rate of 2,000 ADH per 1 ETH. This is the final amount of tokens, and all unsold quantities will be burned.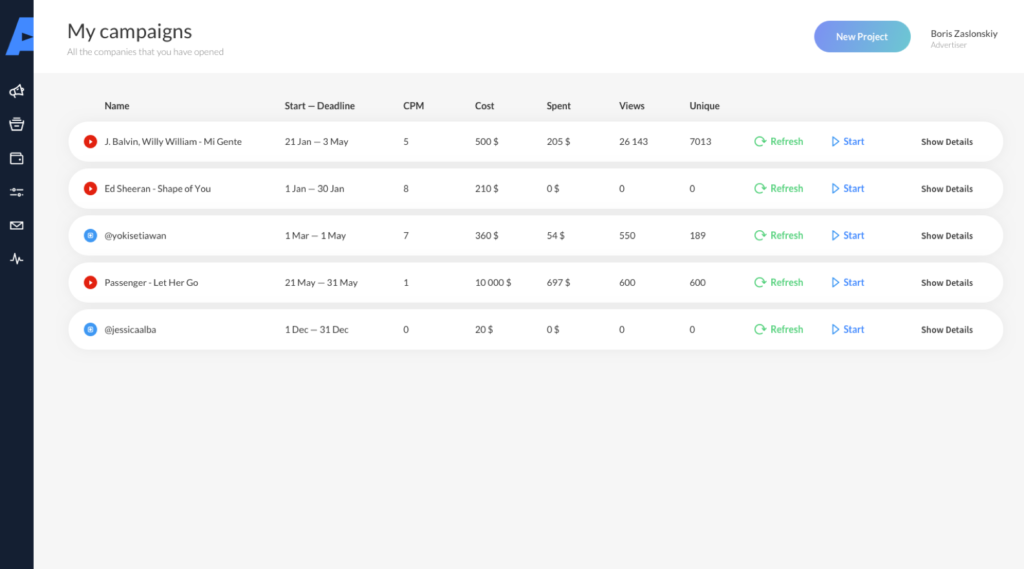 The new coin will benefit both the advertisers and bloggers: the former will appreciate transparency and accountability of smart contracts, and hassle-free international campaigns while the latter will enjoy clear, reliable monetization models and near-instant transactions.
To allow businesses to scale their native ad efforts efficiently, AdHive brings together the powers of AI and community. When advertiser places a task, the algorithm does all the legwork by monitoring influencer feeds (video blogs, livestreams, Instagram) for visual and audio evidence (key words, product images etc.) of completion and pays participating bloggers in ADH automatically. At the same time, members of community can earn ADH by assessing the quality of native advertising more thoroughly.
"Blockchain in ads (as it is with other fields) ensures transparency in the execution of campaigns and financial settlements. Using a single token for all transactions allows advertisers to easily launch international campaigns. ADH will solve the problem of cross-border payments and the issue of micropayments by significantly decreasing transactional and conversion fees compared to traditional payment methods. Additionally, token payments are attractive for such important group of advertisers as existing crypto businesses and projects that are preparing their ICOs", — comments Vadim Budaev, CoFounder of AdHive.
ICO details
ADH token is a critical element of the platform, the main payment method between the advertisers, the bloggers, and the community. The token reduces operational expenses and accounting costs of large scale, international advertising campaigns. High fees on microtransactions and heavy regulatory paperwork just go away.
The start of the Token Presale is scheduled for January 10, 2018 at 14:00 UTC and will last until January 27, 2018 at 14:00 UTC. The total amount of placement is 450,000,000 ADH, with capital target around $15 million. No additional tokens will be issued afterwards. The initial exchange rate will be 2,000 ADH for 1 ETH, to be further determined 6 hours ahead of the ICO launch. Unsold tokens will be burned afterwards.
Key points about ADH:
ADH is a Ethereum ECR20 token
It ranks 10 in Howey Test risk score, "unlikely a security"
AdHive uses Bancor protocol to eliminate liquidity risks for token holders
Between 25 and 35% of tokens will be made available for ICO participants
You will find more details about the ICO in the project overview (https://adhive.tv/adhtoken/).
About AdHive https://adhive.tv
AdHive, a native advertising platform that helps businesses scale their influencer marketing efforts efficiently. Advertisers offer a general idea of their message and let individual bloggers come up with their own scenarios. AdHive then employs both AI and community approach to verify and assess the results. To make transactions between advertisers, influencers, and the monitoring members of community faster, easier, and more reliable, AdHive launches ADH, its platform-wide cryptocurrency on January 15, 2018.
Partnerships
The platform can be easily integrated to deliver additional value for advertisers with other platforms and services for native video ad placement: Ninja Outreach, BlogMint, BrandBacker and others.
AdEx, a decentralized ad exchange, has signed a partnership agreement to collaborate in ad exchange in native video ad placement.
Background/Team
AdHive was co-founded by Dmitry Malyanov and Vadim Budaev, serial entrepreneurs with background in B2B services, machine learning & speech/visual recognition at Scorch.ai and Webvane. Dmitry has over 10 years of experience in sales and management, including Groupon, while Vadim has worked as system architect and team leader for over 15 years. The third co-founder, Alexandr Kuzmin, is an experienced trader and a former professional poker player. At AdHive, he leads model development and financial management.
The mathematical model and incentives of ADH have been developed by Serguei Popov, professor of mathematics at the University of Campinas, Sao Paulo, Brazil and AdHive's scientific advisor. Sergey had previously authored the mathematical models of WINGS (https://wingsfoundation.ch/docs/WINGS_Scientific.pdf) and contributed to the theoretical work on another crypto-currency, NXT. At AdHive, his models help the system distribute rewards within each acting group in a fair way that incentivizes users to learn more and become better at their roles, for the benefit of every individual user and the platform in general.